Wine Appreciation and Pairing Suggestions
The Wine Century Club


http://www.winecentury.com/membership.php
Do you have the desire and stamina to try and taste 100 grape varietals from around the world? If so, use this link to download the Wine Century Club application/checklist.


.
Food for Wine.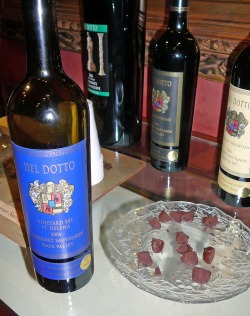 Some people worry about what wine to serve with a particular dish. I worry about what dish to prepare to complement the wine I plan to serve. With that goal in mind here are links to some of our favorite tried and true wine pairing recipes.
Pear and Blue Cheese Pizza

This recipe works well with white wines and most reds. I like it with a pinot noir or a Rhone blend or a meritage or cuvee.
I look for prepared crusts with a touch of sweetness, like Mama Mary's, and I use soft, spreadable blue cheese which is at room temperature.
Link: http://recipeland.com/recipes/recipe/print_full/Pear_and_Blue_Cheese_Pizza_30252

Asiago Dip
This dip pairs well with light, crisp white wines like a pinot grigio or pinot gris. You can easily substitute crostini or hard crackers for the pumpernickel bread.
Link: http://allrecipes.com/recipe/dennys-amazing-five-minute-asiago-dip/Detail.aspx

Boursin and Walnut Canapes
Allow Boursin cheese to get to room temperature and then spread on a hard cracker (I like a sesame melba round or a crunchy multigrain) and then top with a walnut half. These canapes are particularly good with white wines like viognier or chardonnay.

Smokey Barbeque Brisket
This Southern Living recipe takes a significant amount of marinating and cooking time but it is so worth it, I pair this with big bold reds like cabernet sauvignons, malbecs, and cabernet francs.
Link: http://find.myrecipes.com/recipes/recipefinder.dyn?action=printerFriendly&recipe_id=461467

Gruyere Cheese Puffs
If you want a less savory puff you can substitute the dijon mustard with 1/4 tablespoon of fresh-ground nutmeg. Either way these puffs pair beautifully with chardonnay, pinot noir/Burgundy, Bordeaux, and Rhone blend and are best served warm as appetizers or with a meal.
Link: http://www.epicurious.com/recipes/food/printerfriendly/Gruyere-Cheese-Puffs-106397

Flourless Chocolate Cake
Chocolate desserts pair best with red wines like malbec, petite syrah, tempranillo, or a late harvest zinfandel or port. Use bittersweet chocolate that falls into the 65-75% cocoa range for the best results for red wine pairing.
Link: http://www.recipezaar.com/recipe/print?id=360627

Pot Du Creme Au Chocolat
Creamy and decadent on the tongue, this pudding-like dessert is best paired with a red wine with plenty of body and a soft mouthfeel, like a petite syrah or a port or late harvest zinfandel. For the best results, use quality dark chocolate in the 65-75% cocoa range and real cream.
Link: http://www.tastebook.com/recipes/596014-Pot-du-Creme-au-Chocolate

Champagne/Sparkling Wine Appetizers
Champagne is perfectly fine on its own. However if you want to pair your champagne or sparkling white wine with an appetizer I would suggest caviar on toasts, roasted almonds, olives, strawberries, or seared scallops.
---