Tastings
A Top Ten Tasting
The Roanoke Fine Wine Society located in Roanoke, Virginia recently did a blind tasting of the 2008 Top 10 wines as selected by the Wine Spectator board of editors and published in the December 31, 2008 issue.

The wines were:

1. Casa Lapostolle Clos Apalta Colchagua Valley 2005

2. Château Rauzan-Ségla Margaux 2005

3. Quinta do Crasto Douro Reserva Old Vines 2005

4. Château Guiraud Sauternes 2005

5. Domaine du Vieux Télégraphe Châteauneuf-du-Pape La Crau 2005

6. Pio Cesare Barolo 2004

7. Château Pontet-Canet Pauillac 2005

8. Château de Beaucastel Châteauneuf-du-Pape 2005

9. Mollydooker Shiraz McLaren Vale Carnival of Love 2007

10. Seghesio Zinfandel Sonoma County 2007

Members were asked to rate the wines blind (the Ch.Guiraud Sauternes was excluded from the blind tasting for obvious reasons) on the 100 point wine scoring system and all were invited to identify the wines. We were given the list of wines beforehand, as shown above.

Of the 16 members in attendence no one was able to correctly identify all of the wines, however a few were able to correctly identify six out of the ten. The group favorites were the '07 Mollydooker Carnival of Love and the '04 Pio Cesare Barolo . Unfortunately, the Château Pontet-Canet Pauillac 2005 (the second most expensive wine at current market price) was in a bit of a funky stage and very closed on the nose. All I could get on the nose was a whiff of roasted meat and cellar. The least expensive wine, the Seghesio Zinfandel Sonoma County 2007 (currently around $25.00 US), was enjoyed by all.

--Laura Scott, September 9, 2009

♥ ♥ ♥ ♥ ♥ ♥ ♥ ♥ ♥ ♥ ♥ ♥ ♥ ♥ ♥ ♥ ♥ ♥ ♥ ♥ ♥ ♥ ♥ ♥ ♥ ♥ ♥

.
Free Your Cellar Captives!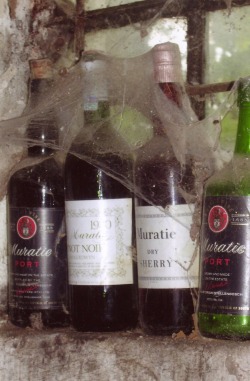 I know you have them—those precious bottles locked away in the cellar waiting for that "special" occasion.
Some of them are probably much older than your kids, or your marriage, or the proverbial tie.
Take the example of my friend Manuella who used the occasion of a visit from some wine-loving friends in August of 2009 to rescue some bottles her late husband had squirreled away. She sent my husband, Robert down to the basement with instructions to take whatever needed to be drunk. He returned with three Burgundies from the 80's. Unfortunately all the wines were bad. I'm mean really bad. The wine went down the drain with the exception of one passable Côtes de Nuits which I rescued because it had some lingering hint of grape, decent structure, and earthy notes. Robert was sent back down for some more recent vintages. He came up with a St. Emillion and a Volney from the nineties.
The 1996 Bouchard Aine & Fils Volnay had a clear lip but had retained a pretty garnet color. There was some very pleasant toasted oak, cherry, and cocoa on the nose. But on the palate the wine was light weight and astringent and all I could taste were oak and hard cherry candy flavors, which lingered very dry on the 20 second finish.
The second wine, a 1993 Chateau Troplong Mondot Grand Cru Classe St. Emillion did not fair as well. If I was rating it I would give it a 70 point score at best. The color was dark ruby but cloudy. On the nose it was dusty with a hint of spice and loam. It was chalky and drying on the palate but not entirely fruit robbed. Some cherry came through but it left soon after with a short and disappointing finish.
This experience and other recent tastings of older vintages have convinced us that we have to free those cellar captives. And we are beginning to do so. We are no longer going to wait for that just so special occasion anymore. We are, frankly, too old for that and so are our cellared wines.
So, I challenge you to create a special occasion every week or month and drink one of those cellar captives. Here are some suggestions for occasions to celebrate:
My husband is bringing home pizza!
The kids haven't asked for money this month!
Yes, I still have my job!
Or Hurrah, I just got fired!
Get the picture?
— Laura Scott, September 17, 2009
♥ ♥ ♥ ♥ ♥ ♥ ♥ ♥ ♥ ♥ ♥ ♥ ♥ ♥ ♥ ♥ ♥ ♥ ♥ ♥ ♥ ♥ ♥ ♥ ♥ ♥ ♥



Jaboulet Hermitage La Chapelle Vertical Tasting





On October 19, 2009 the Roanoke Fine Wine Society sat down to a vertical tasting of the following vintages of Paul Jaboulet Hermitage La Chapelle: '82, '89, '90, '95, '97, '98, '00, '03, and '05.



We broke the vintages into two flights. We decided to taste the first five vintages ('82, '89, '90, '95, and '97) blind to see how many of the thirteen people present would choose the 1990 wine as their favorite of the flight. Robert Parker gave the '90 La Chapelle a 100 point rating, Wine spectator gave it a 97 rating. Although only a few members chose it as their favorite in this first flight and no one gave it a rating over 97, it was the highest scoring wine of the night for the group. For me the '90 La Chapelle had some wonderful loam, floral, allspice and vanilla on the nose but disappointed on the palate, offering up little outside of some generic mineral and sour fruit and a hint of mint. The wine finished with some nice lingering spice but the tannins were clunky and it was not close to being my favorite of the flight. I rated it a 91.



Everyone correctly identified the '82 as the oldest vintage in the flight. The color and clear rim gave it away, along with its sherry-like taste and grainy, leftover tannins. However I was surprised how much it retained on the nose—the florals, herb, leather, and licorice. It still smelled like a lovely syrah and the finish, though slightly medicinal, was very pleasant.





The '89 was a disappointment for me and for quite a few of the society members. It was closed, astringent, funky. I found the tannins to be obtrusive. It just wasn't a very friendly wine. It was my least favorite wine of the night and I rated it an 85.





The '95 also met with mixed reviews. It showed to be one of the younger wines in this first flight but the tannins were well-integrated and it had some very nice fruit and spice on the palate.





The '97 was one of the group favorites in the first flight. There was plenty on the nose to make everyone happy. I picked up hints of cassis, sweet tobacco, spice, and black licorice, and mouth-filling flavors of cherry brandy and mochaccino. This wine can be found online in the range of US$93-100, so I couldn't help but compare it to the '90 which we had purchased online for US $349.00. The '97 is a relative bargain for an Hermitage La Chapelle, though I'm not sure how much longer it can hold out. My advice is to buy it a recession prices and drink it soon.



The second flight of La Chapelle consisted of four vintages: The '98, '00, '03, and the '05. We did not taste these blind and we didn't know what to expect given their relative youth.

To me, the '98 was a typically pleasing but not a stellar Hermitage. There was nothing really exceptional there. I, along with Robert Parker, rated it a 90.



There was something seriously wrong with our bottle the '00. No evidence of oxidation but everyone in the group rated this wine poorly, if at all. All I could pick up was rhubarb, pepper and funk on the nose, and some weird sparkling acid on the palate. Our winemaker member Debra suggested it might actually be citric acid we were tasting. I would want a taste from another bottle of this wine before shelling out US$75 for a bottle of the 2000.





The best drinking wine in this second flight was the '03. It had a nice earthy nose with hints of dark fruit and eucalyptus. It was super extracted on the palate, loaded up with fruit and terroir, and it carried these flavors through the finish. The wine critics have rated this wine in the nineties (Robert Parker giving it a 95+) and I gave it a 92 rating, as did Stephen Tanzer. But this stuff should be good because you are going to have to pay well over a hundred dollars for it.





The '05 is going to have to work a little harder to justify its price. At US$150 current retail, you are betting that this wine is going to be awesome after some time in the cellar. And all the Roanoke Fine Wine Society members agreed that it will need much more time. That said, the promise of an awesome wine is there now in the aromatics of cassis, lead, and blackberry. There is an opulent, silky texture in the mouth that suggests a well-integrated tannic structure, and the finish, though overly oaky at this point, serves as a teaser for things to come. I gave this '05 La Chapelle a rating of 94 out of 100 based on its' potential. We'll see.





Outside of the '90 vintage, and the more recent '03, Paul Jaboulet Hermitage La Chapelle has struggled to impress the critics--very few wines in the past two decades have garnered the accolades of the legendary '61 and '78 vintages.



I think the La Chapelle wines have periodically suffered from high expectations and perhaps the pressures of meeting the demand for these wines. In addition to estate grown grape, the team at Paul Jaboulet Aîné must acquire enough quality fruit in the Hermitage to fill the anticipated orders, and then must compete with the likes of

Chave and Chapoutier. This challenge is now being met by the new guard, led by

Jean-Jacques Frey, owner of Château La Lagune and Champagne Billecart Salmon, who acquired the winery in 2006 and Bordeaux-based consultant Denis Dubordieu who was brought in by Frey after Laurent Jaboulet was let go shortly after the sale.

Frey's team is making moves to focus on quality rather than quantity and they have replanted vines, switched barrel suppliers, and have acquired vineyards in an effort to align production with their vision of Paul Jaboulet Aîné going forward.

--Laura Scott, October 22, 2009

♥ ♥ ♥ ♥ ♥ ♥ ♥ ♥ ♥ ♥ ♥ ♥ ♥ ♥ ♥ ♥ ♥ ♥ ♥ ♥ ♥ ♥ ♥ ♥ ♥ ♥ ♥



1999 Bordeaux Tasting





On November 2, 2009 members of the Roanoke Fine Wine Society sat down to a blind tasting of eight bottles of 1999 Bordeaux. The wines were tasted in two flights. The first flight consisted of wines from Margaux and Pessac-Léognan and the second flight consisted of wines from Paulliac.





I was curious to see how these wines were drinking a decade after the grapes were plucked from the vines and I anticipated that a few of them wouldn't be ready to drink based on my previous tastings of what is considered by Bordeaux standards to be relatively young wines



The wines are listed in the order they were tasted.



1999 Clos du Jaugueyron Margaux.

I had never even heard of Clos du Jaugueyron Margaux before this tasting but I was impressed enough to do some research and found out how rare this wine is coming from five measly hectares nurtured by Michel Théron, who both owns the property and functions as winemaker. I was impressed by what I could get on the nose—loam, cedar, and floral notes and the big dark cherry flavor. My fellow society members were not as impressed as I and only a few of us liked it enough to give it a score in the low nineties, along with Robert Parker.



The 1999

Chateau Margaux

was my favorite wine of the evening. Not surprising because I have always enjoyed this wine. However, our guest that evening was Charlie Berg, the

sommelier at Town House

restaurant in Chilhowie,

Virginia

, and he also had some very nice things to say about this wine, calling it "elegant."



Many of us around the table were surprised by our low scores for

Château

la Mission Haut-Brion and its famous neighbor

Château

Haut-Brion. We tasted them back to back blind and I found the La Mission to be unwelcoming on the nose, with strong graphite, spice and mineral but with the fruit coming too late in the one dimensional stewed-fruit finish. The Ch. Haut-Brion had similar graphite and mineral characteristics but offered more fruit on the nose, but not on the palate. The acid was in your face, yielding reluctantly on the finish with a taste of sweet cherry. Even Robert Parker couldn't summon up enough excitement to rate the Ch Haut-Brion more than a 93. I rated a 90 and gave the La Mission 89 out of 100.

Unfortunately our bottle of 1999

Château

Lynch Bages was corked so most of our members did not rate it. The rest of the Paulliac flight faired better and I enjoyed the 1999

Château

Lafite-Rothschild. This wine seemed ripe to drink with all the elements in place—mineral, leather and cassis on the nose, and cherry fruit balanced with cured wood and sparkling tannins on the palate. Parker gave it a 95 and I gave it a solid 91.

It was the consensus among those at the table that the last two reds in the flight, the 1999

Château

Latour and the 1999

Château

Mouton-Rothschild, needed to be left alone for a while. The Latour showed some young, bright fruit and some tightly-coiled tannins but remained very shy and reticent. The Mouton-Rothschild was well, childlike, reminiscent of a two year old in a pout, only showing its least adorable characteristics—blood and barnyard. It seemed to be in a bit of cranky phase with a heavy dose of French funk and very little fruit at the beginning. However it did improve with time and some members felt compelled to revise their scores upward at the second or third pass

Robert parker's vintage rating for these wines is 88 out of one hundred and this vintage has been deemed ready to drink but I'm mot sure you can make that assumption across the board.

As we found out, some of these wines need more time to mature in the bottle.



—Laura Scott, November 4, 2009



♥ ♥ ♥ ♥ ♥ ♥ ♥ ♥ ♥ ♥ ♥ ♥ ♥ ♥ ♥ ♥ ♥ ♥ ♥ ♥ ♥ ♥ ♥ ♥ ♥ ♥ ♥


Domaine Paul Autard Tasting

On March 2, 2010, the Roanoke Fine Wine Society sat down to a tasting of nine bottles of Domaine Paul Autard Chateauneuf du Pape. Domaine Paul Autard is run by Jean-Paul Autard a fourth generation winemaker who has been tending his families' vines since the age of seventeen. The property includes 13 hectares of AOC Chateauneuf du Pape on the road between Courthezon and the town of Chateauneuf du Pape and 14 hectares in the Cotes- du-Rhone.

Our first flight included the 1998 Chateauneuf du Pape, the 1998 Chateauneuf du Pape Cuvée La Côte Ronde, and the 1999 and 2001 Chateauneuf du Pape. As soon as these wines were poured we noted how light in color they were, reminiscent of a light Burgundy. Both of the 98's were cloudy with a clear lip. The 2001 was the exception with a bright garnet color—unfortunately it was corked and most of the members did not rate it. The '98 Côte Ronde and the '99 CNP were the favorites in this grouping. All agreed that the wines in this flight were not characteristic of CNP but we still found much to enjoy.

The Domaine Paul Autard CNP Cuvée La Côte Ronde is a 50/50 Grenache and Syrah blend, and the Chateauneuf du Pape is 70% Grenache with 15% Syrah and 15% Couniose. In a break with traditional CNP winemaking the Côte Ronde is aged in new oak barriques, which are now being housed in a wine cave built in 2005. Jean-Paul has been investing in new world techniques and equipment while he strives to maintain old world style. The new oak was very apparent on the palate of the Côte Ronde and the vanilla balanced the mineral and roasted meat. In both the CNP Côte Ronde and the Chateauneuf du Pape, the cherry and blackberry flavors were carried through to the finish with an abundance of acid.

There was a marked contrast between this first flight and the following wines which included the 2000 Chateauneuf du Pape, 2003 Chateauneuf du Pape, 2003 CNP Cuvée La Côte Ronde, and the 2005 and 2007 Chateauneuf du Pape.

These later vintage wines actually looked like Chateauneuf du Pape with deep purple and garnet colors and ample evidence of glycerin which showed as we swirled these wines in the glass.

And swirl we did. First tastes presented plenty of tannin which softened in time with the 2003 Chateauneuf du Pape but not soon enough with the 2003 CNP Cuvée La Côte Ronde and the other wines in this flight. These unresolved tannins were reflected in the scores and comments but the majority of the group enjoyed the bright, fresh fruit flavors along with the gritty graphite, acid, and mineral. This is the trademark of CNP wines which Jean-Paul Autard describes as "Intense and potent on the one hand; elegant and refined on the other."





—Laura Scott, March 3, 2010



♥ ♥ ♥ ♥ ♥ ♥ ♥ ♥ ♥ ♥ ♥ ♥ ♥ ♥ ♥ ♥ ♥ ♥ ♥ ♥ ♥ ♥ ♥ ♥ ♥ ♥ ♥

---